At the Canadian Spine Society's 23rd annual scientific conference, Wednesday afternoon was dedicated to learning about connective tissue disorders and their impact on the spine. The Loeys-Dietz Syndrome Foundation Canada was thrilled to join forces with the Canadian Spine Society and Canadian Pediatric Spine Society to make this connective tissue disorder symposium possible.
Keeping reading to find out about our impact at the conference, the amazing speakers, and the valuable patient perspectives that were shared.
Why was it Impactful for the Foundation to Attend this Conference?
As the signs and symptoms of Loeys-Dietz syndrome (LDS) can appear in the spine and other parts of the skeletal system, the Canadian Spine Society was a perfect place for the Foundation to raise awareness and promote education for LDS.
Awareness and education can help orthopedic surgeons and medical professionals to better:
Speakers at the Connective Tissue Disorder and Spinal Manifestations Symposium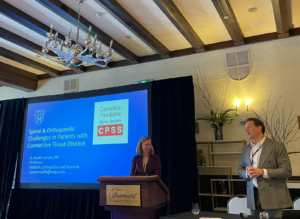 A big thank you to the Symposium's amazing speakers:
Dr. Noelle Larson, pediatric orthopedic surgeon with the Mayo Clinic, presented on spinal and orthopedic challenges in patients with connective tissue disorders. She shared some of the features that make these patients unique, as well as the importance of treating each patient individually.
Dr. Julie Richer, geneticist at CHEO, presented on children with Marfan syndrome and related disorders.
Dr. Tiscar Cavalle-Garrido, pediatric cardiologist with the McGill University Health Centre, spoke about the non-musculoskeletal manifestations of Marfan syndrome, Loeys-Dietz syndrome and vascular Ehlers-Danlos syndrome.

Dr. Julie Richer

Dr. Jean Ouellet, pediatric orthopedic surgeon with the McGill University Health Centre, moderated the symposium and presented two case studies.
Mr. Alex Galli, patient advocate with LDS, shared his experiences and hopes for the medical community.
Dr. Jida El Hajjar, Ms. Lindsay Parsons, and Mr. Joseph Galli from the Loeys-Dietz Syndrome Foundation Canada spoke about the Foundation's programs, research goals, and eagerness to work with medical professionals and create better outcomes for people with LDS and related conditions.
A Loeys-Dietz Syndrome Case Study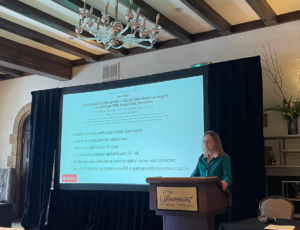 Dr. Jean Ouellet and Dr. Tiscar Cavalle-Garrido presented a Loeys-Dietz syndrome case study of a teenage boy who underwent scoliosis surgery.
However, after his spinal curve was corrected, he experienced serious cardiovascular complications. It took a multidisciplinary team of experts to figure out why.
The boy's pectus excavatum was putting pressure on his heart and causing his cardiac symptoms. To correct this, his multidisciplinary team performed a pectus excavatum surgery (the Nuss procedure) and, now, he is hoping that others can learn from his story.
Patient Perspectives on Scoliosis and Loeys-Dietz Syndrome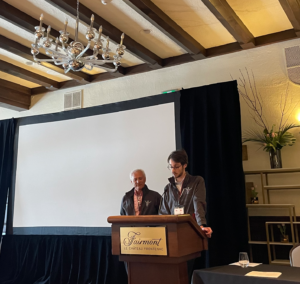 Mr. Alex Galli, a patient advocate with Loeys-Dietz syndrome, shared his story of scoliosis surgery and LDS symptoms and procedures.
He also encouraged medical professionals in the room to think of Robert Frost's famous poem and take the road less travelled, i.e., to take the path of engaging with connective tissue disorder patients. This means taking the time to identify, treat, and work with patients. For Alex, finding medical professionals who took the time to care for him has made all the difference.
Another patient advocate also shared her scoliosis journey, from adolescence to adulthood. She spoke about challenges faced by scoliosis patients as well as the importance of hearing what patients have to say.
New Research Avenues from the Conference
Beyond the symposium, the Canadian Spine Society's Conference showcased a wide range of exciting new research and innovation.
Orthopedic experts from across the country came together to share opportunities for collaborative research as well as to talk about bracing strategies, early onset casting, using artificial intelligence to measure scoliosis, infection risks, early scoliosis detection, ultra-low dose CT scans, and much more.
Sign Up for the Foundation's Newsletter
To read more about what patients have to say, and to find updates and research that matter to you, subscribe to the Foundation's monthly newsletter.