Reflections from the Heritable Aortic Disorders Symposium 2023 
In the realm of medical conferences, few experiences are as profound and transformative as attending an event that brings together patients, medical professionals, and researchers, all united by a shared mission. The Heritable Aortic Disorders (HAD) Symposium held in Halifax, Nova Scotia, on June 23-24, 2023, stands as a testament to the power of knowledge exchange and community building.
This symposium, with its diverse range of attendees, presented a unique opportunity for individuals affected by heritable aortic disorders to connect, learn, and share their experiences. In this blog post, we'll delve into the insights provided by two distinctive perspectives: Amiel, a Loeys-Dietz syndrome (LDS) patient, and Sally, an aspiring genetic counseling student. 
"As an LDS patient who attended the HAD (Heritable Aortic Disorder) Symposium in Halifax (June 24, 2023), I would like to take this time to share my personal experiences of this event ranging from before, during, and after the conference.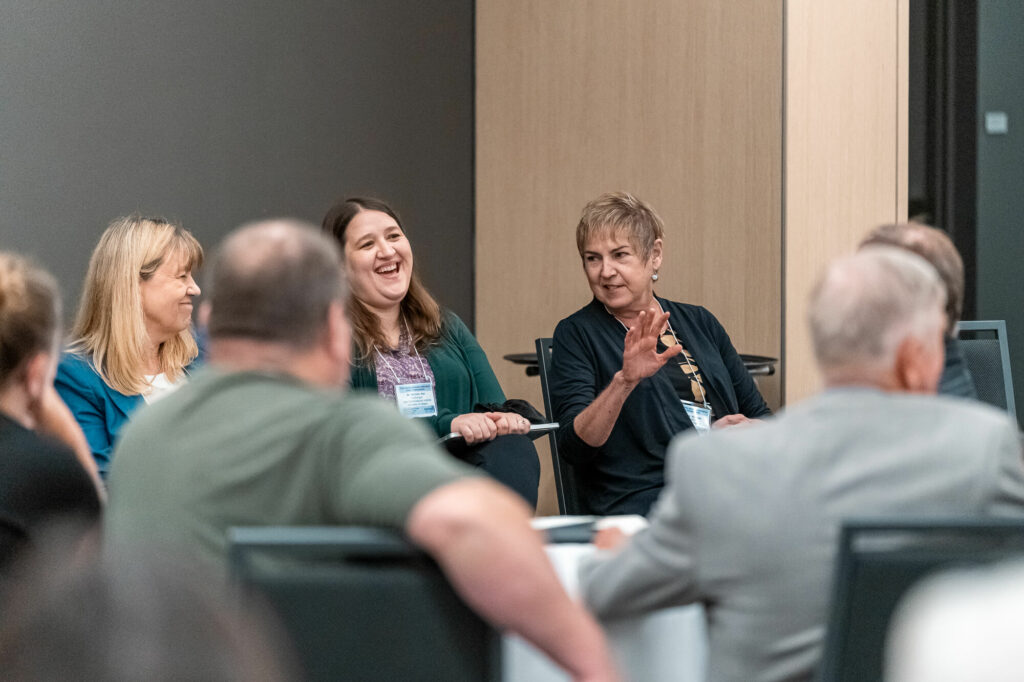 Filled with many heartwarming moments and profound research findings, this event left me with lots of hope for the future and knowledge about my genetic condition. Broken down further, my thoughts are as follows:
Before the Event
            In order to fully grasp my thoughts and emotions of HAD, I'd like to start at the beginning, which is making that initial decision of whether or not you're going to attend. Before even signing up for the conference, I experienced a lot of hesitancy and anxiety for different reasons. Firstly, this event was taking place in Halifax, Nova Scotia far from where I reside in Mississauga, Ontario. Secondly, this meant the need to travel by plane – which I strongly disklike given my motion sickness, proneness to nausea and overall health issues. Thirdly, with the cost of travelling, I would have to pay out of pocket, which heightened my financial anxiety seeing as I am currently taking a year off school and work to focus on my health.  Fourthly, by being from a different province, I wasn't sure if I'd know anyone else attending, making the convention more intimidating than it really was. Eventually, after ironing out all my fears and concerns, I decided that this was an amazing opportunity I couldn't miss out on; it was only a weekend commitment; and at least I get to experience a different part of Canada. As I arrived in Halifax, my doubts were quickly washed away when I was met with the kindest people I know, ate some of the most delicious food I've ever eaten and gazed upon the marvellous city and port deck that I fell in love with – so much so that I wanted to move there (but that's a story for another time). Seeing as I had one day to tour and experience Halifax as HAD was split up into two days (one for medical professionals and one for patients and families), I made the most out of it, allowing for me to have more positive feelings towards the convention.
During the Event
            At around 7:50am on June 24, 2023 (10 minutes before the event was about to start), I went through registration and sign-in where I was welcomed with the friendliest smiles and was handed a "swag bag" of amazing items. Upon walking into the hall, I was greeted by volunteers and medical specialists, some of whom I never met before, who had genuine interest in getting to know me and my condition. Furthermore, despite not knowing any of the attendees, I quickly socialized with different people noting that they were less scary than I imagined them to be.
            As the conference officially started, I was shocked to see the number of medical professionals taking time out of their day to report research findings about LDS. They went through an in-depth and informative presentation covering topics like the aortic root, genetics, self-advocacy within the medical system in Canada, and the psychological effects of being diagnosed with this condition. While it was a lot of information to take in at-once, it was more than I ever learned having to Google "LDS" myself or reading lengthy research articles behind paywalls.
            Once the research and scientific portion was over, I was glad that patients had the opportunity to ask questions. This made the relationship dynamics of "specialist-patient" and "speaker-audience" feel normalized as it felt like a casual conversation taking place rather than being pulled into an office and having a diagnosis explained to you. I also particularly enjoyed the workshops, especially Stress, Worry and Family Dynamics in Aortic Health with Dr. Sulaye Thakrar, as it allowed me to know other attendees by name, share our personal stories, and collectively bond through the trauma of living with LDS. It was here that a separate conversation was sparked and I ended up speaking to two other people for two whole hours. Within this time, we had an honest/raw/vulnerable conversation about how LDS has shaped our present lives and the fear it holds over us about the future. Topics such as passing down this genetic condition to our kids, maintaining a proper work-life balance, the constant feeling of being a burden to others, the morbidity of death and leaving our loved ones behind, and the inner turmoil of hating our bodies for not functioning as intended were discussed amongst many others. It was truly heartwarming and healing, and I'm not embarrassed to say that I cried for the entirety of those two hours. For a while, I felt isolated and stuck in my condition, not having anyone to speak to, and too afraid to express these emotions to my family. It felt as if LDS was consuming me on a multitude of levels, and it was at the convention where I was able to let it all go.
            After the lunch break, these vulnerable feelings continued as we listened to personal stories of those affected by genetic disorders, either individually or through someone they know. These fostered more tears listening to people who have suffered the same extent, if not more than I have in living with LDS. While each story varied depending on life experiences, each person seemed to have face similar "hurdles" which include: hardships with the Canadian medical system, coming to terms with their diagnosis, the fear of pre- and post-surgery, the guilt of passing their genetic condition down to their children, and facing everyday life with the knowledge of having LDS. As the day winded down, I began to understand the importance of storytelling and connectivity especially in a community like this and felt that the conference ended perfectly through an intimate music therapy session. By 4:00pm, I felt that everything I experienced at this conference was necessary in my personal journey of acceptance.
After the Event
            After returning to Ontario, I was inspired to move past any negative feelings of LDS that I strongly felt during my year off. From April 2022 to June 2023, I was stuck in a slump, feeling bad about myself, my body, and my general existence. I wrote down everything that was bothering me in a letter and decided to burn it, ending my year of grieving/loss. The next day, I wrote down a new list filled with realistic goals I set to accomplish (i.e., personal milestones, career change, ignite my love for writing again) as I work with the LDSFC Foundation to enrich the LDS patient experience. Truthfully speaking, if I hadn't attended this conference, my negative feelings regarding LDS would have taken over my life. That might be drastic to say, but I truly felt like I was going down a rabbit hole of sadness and depression. Now, I can say that this conference has changed my life for the better, setting me forth on a new path.
Benefits of Attending for LDS Patients
For anyone interested in attending, or currently finding themselves hesitant to attend an event like this , here are some added benefits to persuade you:
Sense of Comfort/Community in relating to people who have similar experiences as you
Informative/knowledgeable  building upon previous knowledge of LDS
Healing Process (especially if you find yourself feeling stuck in a negative mindset)
Guaranteed face-to-face interaction with medical professionals (skips the added hassle of a doctor's appointment or yearly waitlist to speak with them)
Networking opportunities with medical specialists outside your specified area (you never know if you'll move in the future, where your career will take you, etc.)
Feelings of being supported, acknowledged, and visible as an LDS patient are a definitive plus
 Ultimately, I hope you learn from my experience, put yourself out there, and realize that there is a community for people like us. All you have to do is take the first step towards resiliency."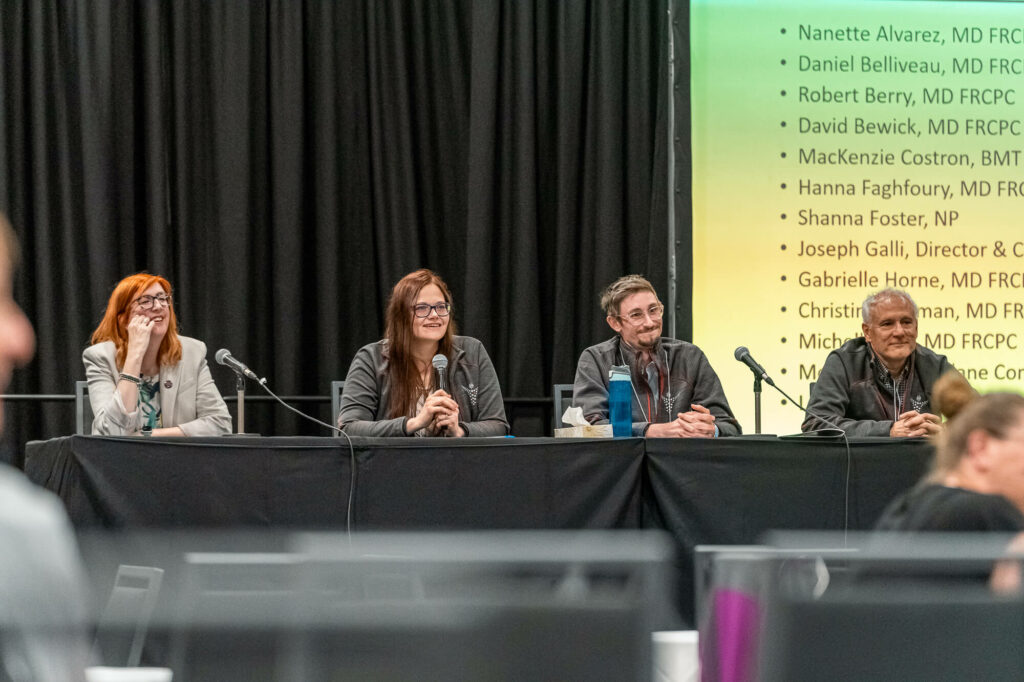 "I had the wonderful opportunity to attend this year's highly anticipated Heritable Aortic Disorders (HAD) Symposium held in Halifax, Nova Scotia. Going alongside the Loeys-Dietz Syndrome Foundation Canada and as an incoming genetic counselling student, this event was truly eye-opening. The HAD Symposium brought together a diverse group of individuals, all driven by a shared passion for advocating on behalf of those affected by heritable aortic disorders. Together, we engaged in deeply meaningful discussions aimed at enhancing the lives of those impacted by these conditions. The sessions and workshops offered profound insights into the challenges faced by patients, caregivers, and healthcare professionals. I was truly captivated by the remarkable stories of resilience and determination that were presented. The symposium also showcased advancements in medicine, research, and supporting resources, fostering ground-breaking ideas. In all, the HAD Symposium provided a space with collective display of strength and unity. This experience has inspired me to continue being an active participant in supporting the rare disease community and contribute to the ongoing efforts towards better understanding, support, and breakthroughs throughout my genetic counselling career.

Additionally, the event highlighted the significant number of undiagnosed individuals with aortic disorders, underscoring the challenges within our healthcare system. It became evident that there is still much room for improvement in terms of early detection, accessibility to genetic testing and accurate diagnosis, accessibility to treatment options, and holistic support. These realities serve as a call to action, igniting a collective determination to advocate for improved healthcare resources, increased research funding, and enhanced collaboration among healthcare professionals, researchers, and patient communities from all around the nation. Every individual affected by rare disease should receive the care, support, and answers they so rightfully deserve."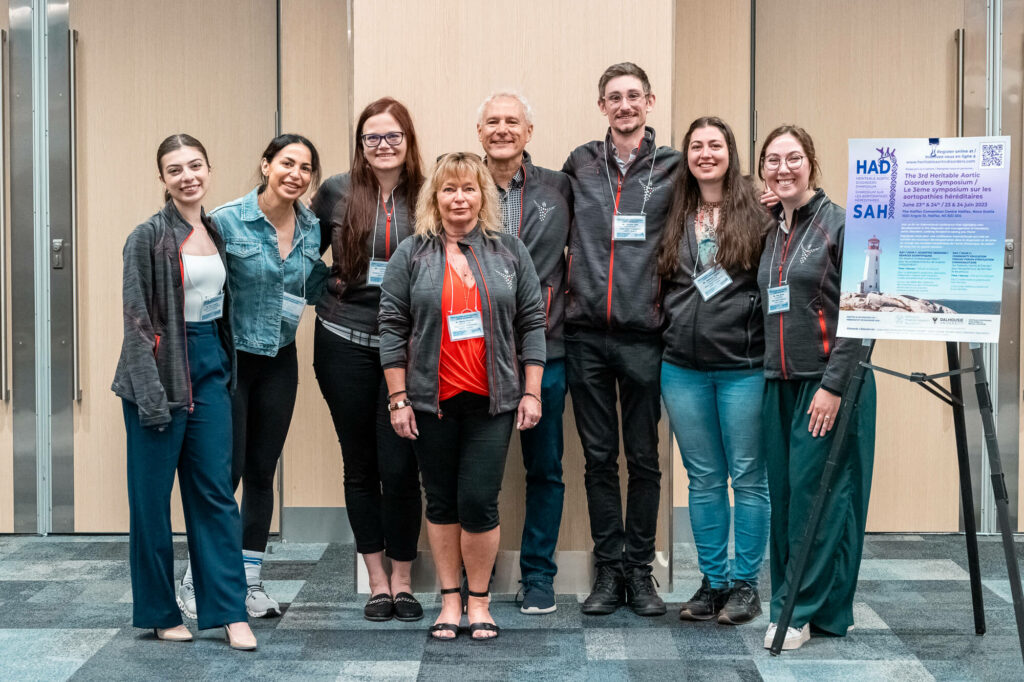 The Heritable Aortic Disorders Symposium in Halifax, Nova Scotia, was more than just an assembly of medical minds and patient experiences; it was a convergence of hope, resilience, and a shared commitment to progress.
Our heartfelt gratitude goes out to all the attendees who graced the Heritable Aortic Disorders Symposium 2023 with their presence, enriching the event with their unique perspectives and unwavering commitment to knowledge exchange and community building.