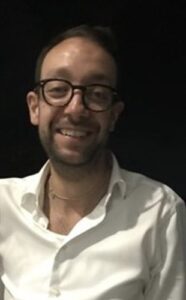 Justin's eulogy, delivered by his father Salvatore (Sal) Fratino:
Justin was born on March 27, 1982 at 9:32 AM and 4 hours later, he had the 1st of many more medical interventions.
Justin was born with a rare disorder that we found out many years later was known as the Loeys-Dietz syndrome (LDS) discovered by Doctors Bart Loeys and Hal Dietz at Johns Hopkins Hospital in Baltimore. Justin spent considerable time with both Bart and Hal since that diagnosis in 2006 trying to understand the underlying issues, health risks and prevention. This disease has a large spectrum and it was discovered that Justin had the worst and most medically challenging of this syndrome.
LDS is a connective tissue disorder that affects all aspects of the body including the blood vessels but especially the aorta that pumps the blood from the heart to the rest of the body.
You wouldn't know it from looking at all those great pictures earlier on the screen in the reception room of a very happy Justin that during his 40 years, he would have nearly 30 medical interventions. Some were minor such as a broken ankle, foot, arm and some were more life threatening. Justin had multiple major surgeries, having broken his femur on both legs, and multiple open heart surgeries.
The past 2 years were exceptionally challenging for him starting with an aortic dissection in January 2021 which was successfully repaired thanks to a great team headed by Dr. Kent Mackenzie at the Royal Vic. Post-surgery, Justin spent 4 months in the hospital, a good portion in intensive care. Justin had 2 more Interventions to repair the aorta in October 2021 with extended hospital stays as well as the removal of his cancerous thyroid. During 2022, Justin was scheduled for more surgery including the repair of a leaky heart valve but because of his frail condition and ongoing limited availability in a stressed hospital system, he passed away before they could be addressed from what we believe was a final aortic dissection.
As you can see from the picture on the screen behind me, Justin was a big soccer fan and an excellent analyst and critic. In 2009, a year after he recovered from his 1st open heart surgery to repair an enlarged aorta at Johns Hopkins, we scheduled a trip to Spain and Italy for the 2 of us to go see Barcelona FC, Justin's 2nd favorite team play Real Madrid and then drive up the coasts to Turin to see Juventus, his favorite team play Inter Milan. We were both excited about the trip and as luck would have it, a month before we were to go, Justin suffered a stroke. He was completely paralyzed when he arrived at the hospital but with help from a great medical team headed by Justin's and our friend Rubin Becker, Justin recovered within 6 months with little consequences.
All these medical issues were extremely challenging for Justin and what worried him the most was what was the next misfortune and when would it happen. Nevertheless, he approached each day with courage, humour and a strong will to live. He took these challenges in stride and tried to lead a normal life which he did most of the time.
Justin had a nucleus of good friends that he loved and in turn loved him back. He was kind, generous and a great sounding board to them and from them. I always said that with Justin, it was always Black or White, either you liked him or you loved him. Justin had a knack for nice clothes both in quality and quantity, he enjoyed good food and even better wines.
Justin was limited in physical sports but was a great swimmer and was an advanced diver until his heart condition didn't allow him to continue underwater diving. He loved fishing and I think it was the quietness, solace and complete detachment of fishing that he loved the most.
Justin was also an excellent businessman having been my partner for nearly 15 years where basically, he took care of everything. He was a great judge of character and often advised me and gave me his comments regarding files, transactions existing and new. He was also asked for his advice in return not only by me but his friends as well.
He didn't expect to die so soon. I was going over books at his place last week and his reading list contained self help, biographies of famous people and an assortment of business books. One in particular caught my eye "The future of artificial intelligence and its effects on commercial real estate". Up until yesterday, he was still receiving deliveries from Amazon and other retailers that he ordered for the Holidays and his death was a shock to us all.
Justin had an effect on many people and Francoyse and I have received countless texts, calls and emails from so many people in the last 10 days saying how saddened  they were to lose someone that was there for them. I am not going to recite these testimonials except for 2 that say it all about the type of person Justin was.
One is from his cousin, whose parents from Connecticut are in this room and reads as follows: "I am really sorry to hear about Justin. Justin may not have known fully, but he was a great influence on me growing up. He shared so much with me when we were younger and I wouldn't be who I am without him"
The other is from Hal Dietz from Johns Hopkins: "Justin was truly a remarkable young man and a personal source of inspiration and will be greatly missed".
As you can see from the photo album on the screen in the reception hall, many of the pictures were in warm surroundings. Justin loved the warm climates and the sun. It is only fitting then that we started this ceremony and celebration of Justin's life as today's sun was setting. It has gone down now, but it will be back up tomorrow, the next day and for eternity afterwards and I know that Justin will be in our heart and memories each and every day when that sun rises.
Earlier, we played a song called "Lullabye my Angel" from Billy Joel. He also wrote and sang another song called "Only the Good Die Young". I always liked and sang to it, but now when I hear it, I will only cry as it is true that only the good die young.
Justin gave us great joy and happiness in his short life and we are thankful to him for the time he allowed us to spend and be with him.
We will NOT miss the fear of the hospital calls to say Justin was just admitted.
We will NOT miss his face lined with fear and pain.
We will NOT miss the struggles he went through.
However we will miss his laughter and smiles.
We will miss his sage advice.
We will miss our Sunday night pasta dinners.
We will miss HIM.
We will never forget him and forever love him.
He was a proud Son, business partner and our best friend.
Goodbye, my beloved Justin, we love you and see you up there soon.
Thank you.